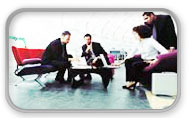 Our Leadership in international development demand the construction of a human network with both technical expertise and quality information gathering systems. We, at Takayama Reed, are flexibility and reliability carefully interwoven for a brighter future.
We, at Takayama Reed Co.Ltd., are always striving to manufacture superior products under the company concept, "As our customers prosper, so are we satisfied. "Thanks to client support and patronage, we have been able to perpetuate our worldwide growth in the textile industry. With ever increasing globalization we are making a positive contribution to society and we remain undivided in our quest to meet consumer expectations through the development and supply of only the highest quality merchandise.

In the 21st century, a company must surpass the traditional economic definitions of what it means to contribute to society and incorporate the fundamentals of Environmental Protection into its overall framework of policies.

LATEST NEWS


90th ANNIVERSARY Since 1915 TAKAYAMA REED


Announce on March 11, 2002 Takayama Reed Co.,Ltd. of Japan and China signed agreement estblishing a new joint venture company.


New Air Saver Series [Hayate Reed], New technology for weaving.


The exchange of information and the training of engineers is promoted through seven Japanese companies in the T.R.group, five overseas joint ventures (in five countries), and overseas companies for technological cooperation.